Natalie Allen & Tiffany Gilkey, School Counselors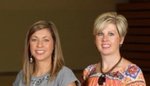 Mrs. Allen and Mrs. Gilkey
Welcome to the guidance page here at Millbrooke Elementary School. Our role as school counselors is to work with students, parents and staff members to help guide students' academic, behavioral, social and personal growth. We are currently enjoying getting to know all of our Cardinals and working with students on their individual needs. If you have concerns about your child that you believe we could assist with, please feel free to contact us at the school at any time. We strongly believe that communication is key to success and that......... Together Everyone Achieves More!
Resources pertaining to guidance are found above under links.
These resources include the topics of: academics, bullying, divorce, gifted and talented, grief, health and wellness, and, military families. Please feel free to surf through all of the sites as you may find that one site gives more information on other topics than what it is listed under.
Meet Mrs. Allen:
Mrs. Allen holds a Master of Arts in Education degree in Guidance and Counseling (grades K-12) from Murray State University. Her graduate program is accredited by the National Council for Accreditation of Teacher Education (NCATE). She is certified as a School Guidance Counselor by the state of Kentucky. Mrs. Allen's life-long dream was to be a School Counselor. She holds all students' emotional well-being, academic progress and personal/social development at the highest regard.
In addition, Mrs. Allen earned a Master of Arts in Education degree in Reading and Writing from Murray State University in order to broaden her expertise in education and obtain her Rank I status. This is Mrs. Allen's eighth year as a School Counselor at Millbrooke Elementary School. Before beginning her duties as a counselor at Millbrooke, Mrs. Allen taught mainly Reading and Writing to grades 3, 4 and 5 at Pembroke Elementary School for four years and Lacy Elementary School for two years. In her thirteen years in education, Mrs. Allen has served on many committees including SBDM, School Leadership Team, Formative Assessment Committee, Writing Plan Committee, PBIS committee and most recently served as Millbrooke's school-wide PBIS Coach. Mrs. Allen was nominated as Pembroke's Teacher of the Year in 2011. She has also been honored as a guest speaker at the KLA Summer Leadership Retreat and the Kentucky Content Leadership Network in 2013.
When Mrs. Allen isn't working at Millbrooke, she enjoys learning, learning and learning some more. She attends professional development classes to continue her education and also researches topics in relation to counseling and education. She also loves to spend lots of quality time with her family. Her favorite quote is "It's not what you gather, but what you scatter." She hopes to scatter kindness to everyone she meets.
Get to know Mrs. Gilkey:
Mrs. Gilkey is currently in her 17th year of working in the educational field. This is Mrs. Gilkey's 9th year as a school counselor. Previously she was the school counselor at Holiday Elementary School for 7 years. Mrs. Gilkey served as the districts middle school intervention coach in which she worked with teachers and administrators to assist with classroom management. Mrs. Gilkey taught at Hopkinsville Middle School for 7 years as an English and Reading teacher.

Mrs. Gilkey obtained her Associates of Arts from Hopkinsville Community College, Bachelors of Science from Austin Peay State University, Masters and Rank 1 from Murray State University. Her graduate program is accredited by the National Council for Accreditation of Teacher Education (NCATE).

Mrs. Gilkey enjoys assisting student's and their families in hopes to remove barriers and to teach children a variety of social skills and coping strategies. Outside of school, she enjoys spending time on the farm and being with family.
If you have any further questions or need assistance in accessing any of the information within the Guidance webpage, please contact Natalie Allen or Tiffany Gilkey at 270-887-7270.